STINGRAY, ALLIGATOR, PYTHON
$850
SUA ALTEZZA breaks the rules of the traditional cigar industry. Creating a luxury statement with accessories that epitomise the sense of wealth, success, class and luxury. Handmade exotic leather cases from stingray skin, python and alligator leather. Available in different colours and sizes to suit your personality and situation.
SESTO ELEMENTO (CARBON FIBRE) CYLINDERS  $850
Sesto Elemento is the sixth element. Carbon.
An unrivalled presentation and statement of success. A tricolorè collection of carbon fibre cylinders to house your personal collection. Each with stainless steel rings and caps to protect your cigars.
ARTISAN LEATHER TRAVEL WALLET  $850
A wallet fit for a King. Handmade sophistication to house the essential components of your smoking experience. Up to 5 cigars, cutter, lighter stand and more. Created with genuine leather, alligator print accents and guaranteed for 5 years. Unzipping your wallet sets you up for the perfect smoke.
Carbon Fibre & Aluminium Ashtray.  
$450
A luxury cigar requires a luxury ashtray… Finished in different materials of carbon fibre, aluminium and contrasting SUA ALTEZZA emblem. Each ashtray is solid in its feel and weight and product features significant channels to hold your cigar as you savour your single malt.
Sophisticated old english and french style lighters in stainless steel and alligator print leather.
Buben & Zorweg Humidor 
$3950
Buben & Zorwig known for their work with Bugatti. We have teamed up with Buben and Zorwig to provide you with the most luxuruios humidor to match your collection of premium cigars.
PYTHON, ALLIGATOR  AND STINGRAY LEATHER $850
A Ring fit for a King to embellish each experience. To match the decadent experience and statement of smoking luxurious cigars we have patented our unique and luxurious leather rings made from a range of exotic leathers including the skin of a stingray, python snake and alligator. This tactile element exemplifies the exotic experience that is smoking your favourite cigars. Our leather rings provide a sophistication and extravagance while also reducing staining and heat toward the end of each experience. (Packs of 12 including 4 stingray, 4 python and 4 alligator rings)
LUXURY LEATHER ATTACHÈ  $1750
Artisan made genuine leather attachè for the discerning smoker. Multiple pockets and sections to hold cigars, cutters, lighters, cases, and accompanying bottle of Scotch. Many a business deal is made over a good cigar.
CROCODILE PRINT LEATHER DUFFEL BAG $1550
The classic duffle bag made from 100% Leather crocodile print. Black leather outer with gold trimmings and high quality zips. A great getaway bag and overnighter.
GRAN ROBUSTO   
7″(175mm) x 55G
SINFUL OUTRAGE OF MONTE CARLO
LANCERO   
7.5″(195mm) x 40G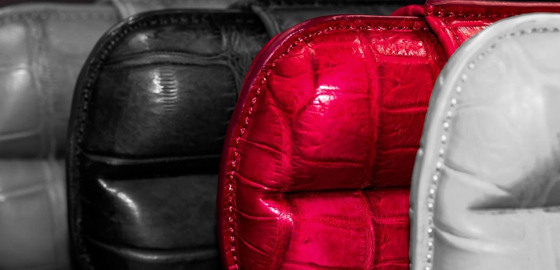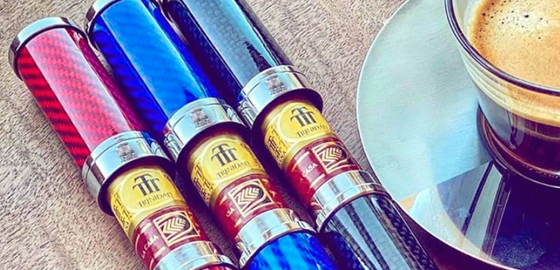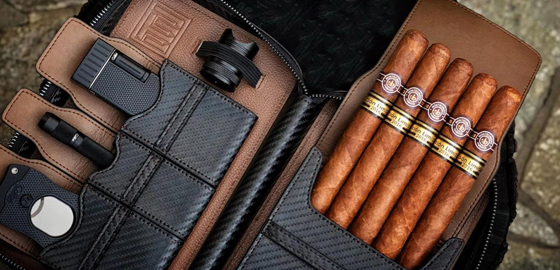 PYTHON ALLIGATOR STINGRAY